Responsibility can be seen even in Peru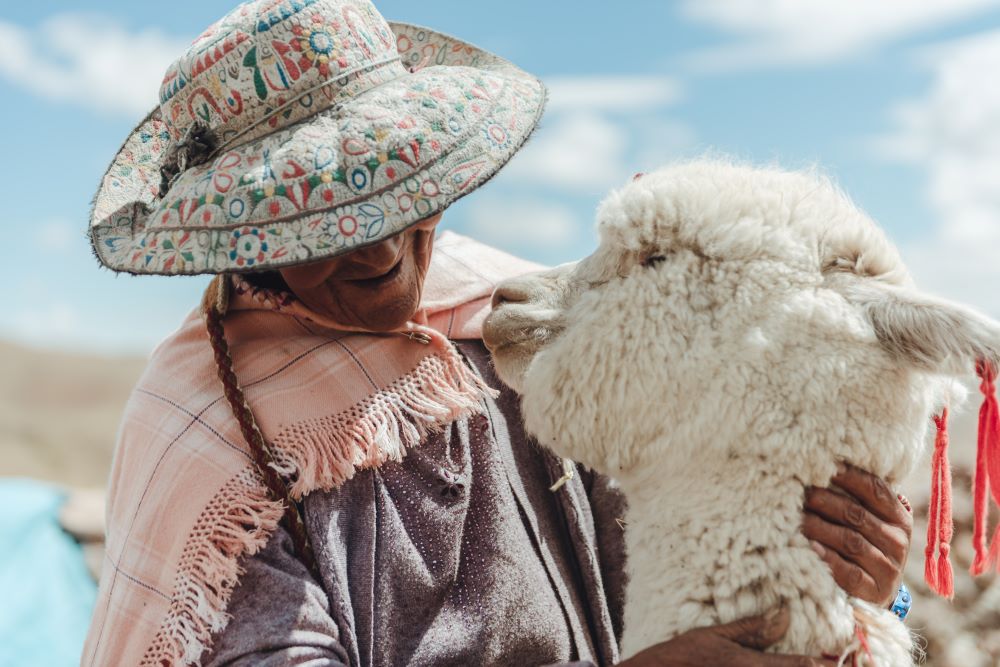 Perniönseutu newspaper 10.12.2020. Anni Himberg.
Carrying ecological responsibility should belong to every company. Still, the idea of ​​responsibility is still not on the agenda of every small or large company. Sini Honkala of Ruukki's spinning mill in Mathildedal tells why it should be the thinking model of each of us.
"Everyone is responsible for themselves, but we are also responsible for others. We are responsible for future generations for what is done on this planet. I believe that the concept of responsibility will wake up and become stronger. And smart young people will still save this planet."
Honkala knows what he's talking about. For him 8 years ago, founding a company around ecological issues was self-evident. Now the work has produced a worthwhile result, because last week the spinning mill's alpaca products made it to the ostavastuulistti.fi website. The website was opened to encourage Finns to change their consumption habits and to facilitate responsible purchasing decisions.
"It's a big deal that the company is responsible even in terms of marketing. However, the best thing was that we didn't apply for this, but were contacted and told that our products were suitable. The curation of the products was done by professors from different disciplines and we were able to include all alpaca products, while other companies have individual products."
Transparent operation
For each product or service, the responsibility panel weighs whether it is a more responsible choice compared to the comparisons. Ruukki spinning mill's alpaca products were found to be organic, undyed and free of chemicals. In addition, the yarn used for the products is spun by ourselves and the fiber comes from our own animals, other Finnish producers and the rest from Peru. Most of the products are designed and manufactured in Finland, and the design aims to ensure that the clothes have as long a life cycle as possible.
"We also have a repair service, where customers mainly bring their knitwear to be patched. We also dismantle old products and recycle the material, but no products have yet been brought in for dismantling. This is because our products have a longer life cycle."
Honkala has learned a lot about the material over the years, and still does not feel that he is aware of everything.
"We learn new things all the time, and at the same time we strive to educate both consumers and alpacas breeders. We are also involved in the Fair Trade chain, which supports alpaca fiber growers in Peru, who are indigenous people."
Through the chain, we are able to support those families who need support. With the Fair Trade chain, the scarce black alpacas are also supported, which is the rarest color in animals. In Peru, a conservation program has been started to preserve the black genetic heritage.
"We have been able to buy black fiber from Holland, but white color would also be needed. Color processing is not always so easy."
Alpa spinning is its own process and it must be done professionally so that the fiber is suitable for production.
"I've wanted to introduce culling here at Mathildedal whenever possible. Some people think it's animal cruelty and I try to tell them that it's an animal welfare issue at that point if an animal is left culled."
Still clearing the way
When Honkala got to know alpacas for the first time 25 years ago, he immediately understood how environmentally friendly the animal was. The woman has never been comfortable in artificial fibers, and the years she lived in America taught her to re-appreciate traditional Finnish things.
"When you realized how great simple things are, it opened up a lot of ideas."
Honkala promises a good future for Ruukki's spinning mill:
"The goal is to get 100% of the fiber from Finland. I don't think we will see it in my time, but hopefully the company will find a few crazy successors to replace me and Leena Rajalan when that time comes."
According to Honkala, the alpaca fiber quality looks good, but there is still work to be done.
"During the collection round last spring, I noticed that Finland's animal material is good and we are moving in a positive direction. Now we have to keep pushing things forward, so that in 10-15 years we will see results."
Ruukki's spinning mill received international recognition
Ruukki's spinning mill was the first in Finland to be awarded the golden alpaca label. It was awarded by the Peruvian International Alpaca Association and the mark is only awarded to products that contain 100 percent of at least Baby Alpaca-level fiber . The name Baby Alpaca refers to the fine grain structure of the fiber, which is so soft that it is also suitable for a baby's skin.
"The golden alpaca mark guarantees a certain quality and now we get to use the mark. There are 49 companies in the world that are allowed to use the mark, so this is a big deal for us and we are also proud of it."
Ruukki's spinning mill has collaborated with an organization whose goal is to offer very high-quality, sustainably produced and innovative alpaca products to the international market. Ruukki's spinning mill is the only spinning mill in Finland specializing in alpaca fiber.
Luxury made by Nature
Most popular
Luxury made by Nature
Most popular