The golden alpaca label, a guarantee of quality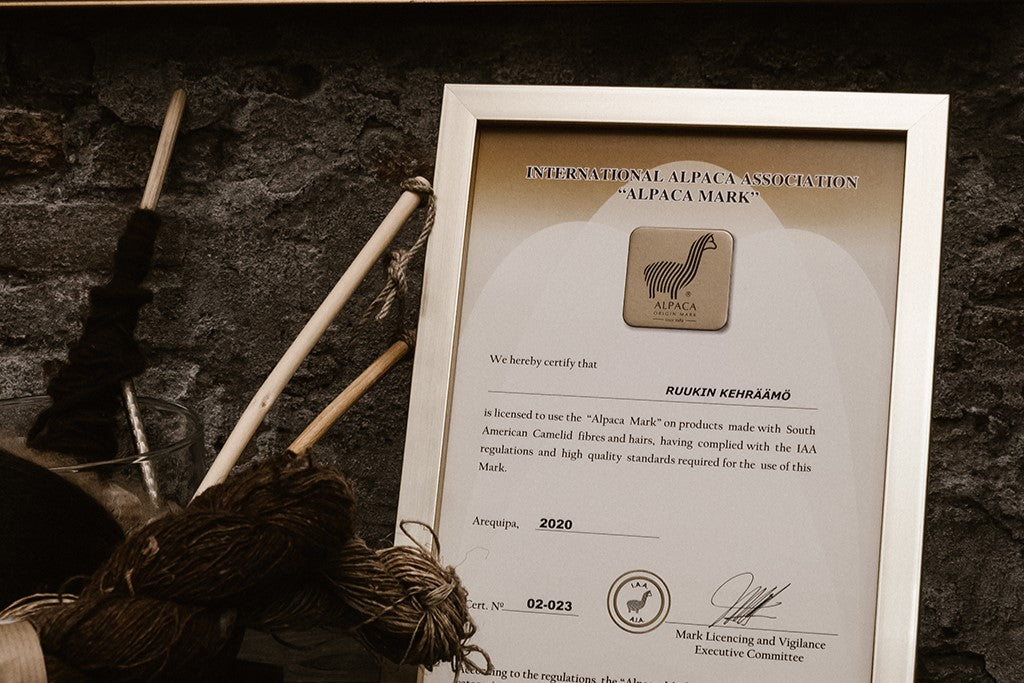 Ruukki's long-term work on ecological, social, cultural and financially sustainable alpaca fiber production has received recognition in the form of the Golden alpaca label awarded by the Peruvian International Alpaca Association (IAA). The organization has been in operation since 1984 and during these years 49 international companies have been accepted as members. Most recently, Ruukki's spinning mill from the iron village of Mathildedal.
The Peruvian International Alpaca Association (IAA) has awarded Ruukki's spinning mill with the Golden alpaca label. With this recognition, Ruukki kerhäämö has risen to the ranks of companies producing alpaca products known internationally for their quality. Includes e.g. companies from Italy, Japan and Australia.
The label is only awarded to products that contain 100% of at least Baby Alpaca fiber. Baby Alpaca-level fiber refers to the fine grain structure of the fiber, which is also suitable for the baby's bare skin. In Finland, alpaca products are available with different levels of fibers and different concentrations.
Ruukki's spinning mill mainly uses Baby Royal Alpaca fiber , which is significantly finer than Baby alpaca fiber. The supply of such a fine quality fiber is very limited and therefore the big players in the fashion industry cannot offer products of a similar quality level.
The mission of the Peruvian IAA organization is to offer very high quality, sustainably produced and innovative alpaca fiber products to the international market. Alpaca comes from Peru and 80% of the world's alpaca fiber comes from Peruvian farms. Of these farms, 80% are still small-scale farmers with less than 100 alpacas.
Part of the responsibility work of Ruukki's spinning mill is to support the indigenous Peruvian people in alpaca breeding and to ensure that ecological and ethical aspects are met in the production of alpaca fiber. As partners of Ruukki's spinning mill in Peru, e.g. IAA and research and breeding center Pacomarca .
Alpaca fiber is also excellent for Finnish conditions, as it is light, dirt and water repellent and regulates body temperature. Products made of fine alpaca fiber are suitable for all ages, from babies to infants, because alpaca fiber is naturally soft and hypoallergenic.
Ruukki's spinning mill is the only spinning mill in Finland specializing in alpaca fiber. In Kehräämö, yarn is spun from the wool of our own alpacas. Ruukki's spinning mill also buys alpaca wool from other domestic farms. Ruukki's spinner shop is located in Salo, in the iron village of Mathildedal. When you visit the shop, you can also see the spinning mill at work and say hello to the village alpacas of Mathildedal.
"During the visit to Peru, we met our partners and indigenous breeders. It was great to see how my own work is important to the well-being of people and animals on the other side of the globe."
Luxury made by Nature
Most popular
Luxury made by Nature
Most popular